The Inspired Mind Experience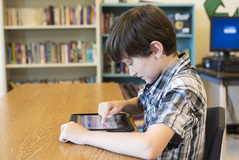 Research has shown students learn mathematics best when material is presented in short pieces. This gives the student a chance to internalize the material and master it before moving on. That's why each of our sessions is divided into two unique sections.

The first thirty minutes is devoted to one-on-one math instruction by a carefully matched tutor utilizing our proprietary multi-sensory curriculum.


---
The next thirty minutes is spent in our Homework Cafe where students work on homework in small groups with a tutor. This insures that your child never falls behind in class.

No homework? No problem. Instead students can continue to practice fundamental skills using adaptive learning technology that continually changes to match the needs of the student. And our tutors are always available if your student needs help.

Bonus: Need some extra time? Stay another thirty minutes FREE!

This blend of private tutoring with semi-private homework help means your child will work on fundamentals AND stay up to date with his/her class.

---
The Inspired Mind Learning Center is proud to offer:
Experienced tutors who make learning fun and exciting
Perceptual learning strategies for faster results and deeper understanding
A customized multi-sensory curriculum aligned with the Common Core State Standards
Small group and one-on-one instruction
Twice weekly sessions that addresses fundamental skills while also helping with school day homework
Affordable Membership fees as low as $31 per hour
If your child is struggling with math, stop by our center and discover how we can help them achieve better results with less frustration. We think they'll agree that TIME makes learning math fun! Serving the communities of Rancho Bernardo, Poway and 4S Ranch.